Wednesday morning brought with it the moment that astronomers and geeks have been waiting for.  A first-ever look at a black hole.
You might have assumed we already had a picture of a black hole. Well, truthfully, we have TONS of pictures–they're just best guesses of what some artist thinks a black hole might look like.
Every article I looked at this week had a different artist's rendering.  Here's what some of them looked like:

commons.wikipedia.com

universetoday.com

zmescience.com

businessinsider.com
Aren't they beautiful?  Dramatic?  It's the stuff of major Hollywood studios.
And then….the unveiling: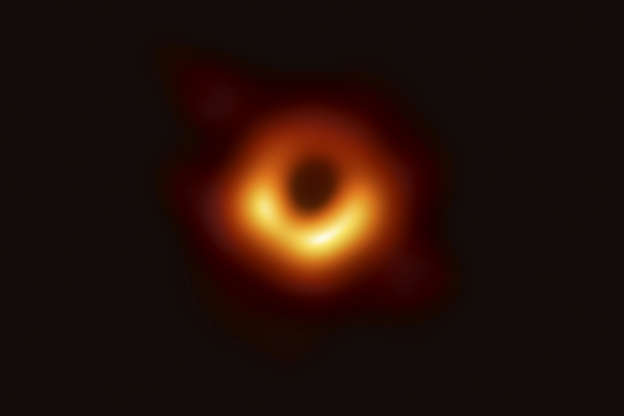 A glazed donut.
As exciting as it is to have a telescope that can capture this long-elusive image, the results, so far, are a little…fuzzy.  Not exactly the crisp, brilliant image the nightly news was hoping for.
If the results are less than fully defined, I'm okay with that.  The lack of detail makes it more believable, because life rarely coughs up a pristine image for us.  This donut gives me something to focus on, even if it still retains some of its mysteriousness.
It makes me wonder about Heaven.  Just like black holes, people have stared up at the black, starry sky, and wondered what it looked like.
Here are some of the artist renderings people have made of Heaven:

arwinsworld@blogspot.com

citybiblegroup.com

restitutio.org

epitmnein-epitomic@blogspot.com
Beautiful and majestic, for sure, but imagine the day that telescopes could fix their sights on Heaven.  What if it looked like this?
Sorry, I can't supply a picture like that.  All we have are more of those artist renderings, which as we've seen, may fall a little short in the accuracy department. I don't blame them for trying–in fact, I applaud the creative spirituality.
The truth is, it's enough for me to simply know that something exists.  I don't need fancy renditions to pique my interests.
I know Heaven exists because of what my soul tells me, like a deep fuzzy look out into the expanse of faith. Of course, we have no telescope to capture an image, however blurry, of the Magic Kingdom.  We don't even know where Heaven is.  Is it a place out in space?  Or in another dimension? Who knows!
I'm not expecting a HD vision of paradise any time soon.  And that's okay.  In place of a heavenly photo, may I offer a short word picture painted by Jesus?   Though the Bible seems deliberately fuzzy when it comes to detailed depictions of the World after this world, this passage has always given me a tantalizing glimpse of things to come.
In my Father's house are many rooms. If it were not so, would I have told you that I go to prepare a place for you? John 14:2
No floorplan, no HGTV description.  Just a barebones image of what's to come.   Yes, it's still a pretty vague metaphor, but it's just blurry enough
for me to believe it.
Have a great week,
Mitch